What's New in August 2023
LARGE Panoramas - Suitable for enormous prints metres wide.
MEDIUM Format - Latest technology. Easily suitable for prints 60 inches and beyond.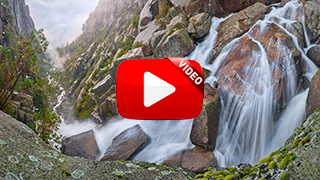 During the winter months of 2023 I managed to make two landscape photography trips, both reasonably local. The first of these involved driving up to the ever-spectacular Mount Buffalo in the hopes of capturing some snowy conditions on the mountain. Unfortunately, there was not as much snow coverage as I had hoped. In my mind I had imagined ice bound lakes and snow clogged trees battling against the elements atop towering rocky cliffs. The reality was a little less dramatic, but none-the-less still yielded some great images and certainly delivered in spades in terms of rejuvenating nature experiences.

Driving up in the dark, just ahead of dawn our boy and I found the Gorge car park and had the lookouts all to ourselves for several hours. The ground was sparsely coated in a thin layer of snow, and large patches of ice making it super slippery. I nearly took a tumble a few times as we checked out each of the views before settling on one. The sky was cloudless, but a little fog down in the valley looked promising in terms of creating interest. Before long the sun crested, and I managed to capture a sun-star on the horizon line. Golden light highlighted the clifftops and trees resulting in an image that was unexpectedly nice given the empty sky.

Our lad was not feeling the greatest, so we headed down to Bright to rest and have an early lunch. The restorative powers of this magic little town worked their charms bringing him back to full strength in no time. With renewed vigour we headed back up the mountain, this time to check out Lake Catani. There was quite a lot of snow on the walk in, and even a layer of ice of the water surface, so I was quite optimistic for a good image, but low cloud had rolled in and was threatening to snuff out any sunset colour.

We had a heap of time on our hands, so we decided to trek around the lake on the circuit walk, something I had not actually done before despite many previous visits over several decades. What a wonderful little trail. A few other people drifted into the area, including some young men who proceeded to smash away at the ice on the lake like it somehow had to be dominated. It was rather disappointing to witness this unnecessary destruction, when my own feelings towards nature are those of reverence and appreciation, but I guess we are all different.

Completing the walk, we had an afternoon snack beside the water and set up our shot for the evening, overlooking the little jetty on Lake Catani. As predicted the low cloud proved troublesome, but at least the ice here was undisturbed. Waiting patiently there was a moment, spanning only a minute or two, in which the wind stopped, and the lake reflected the evening light perfectly, resulting in the image in this series.

The following dawn we drove back up the mountain to place ourselves once again at the Gorge Lookout. The low cloud had really moved in by this stage, however, so we used our backup plan and descended a short distance to Crystal Brook Falls. Nothing much happed for a while, but incredibly right when I had almost given up some colourful light managed to penetrate the valley and create some drama over the scene.

The biggest problem I was having was fitting it all into one frame. I started out shooting with a moderate focal length, and then quickly realised even my widest lens was going to be insufficient to capture the waterfall, the valley, and the beautiful sky. In the end I used my Fuji GFX medium format camera for a massive panorama, and then cropped it back down to a standard 4x3 aspect ratio. The result is probably something equivalent to about 12mm in full-frame terms and, at least in my option, exhibits what it feels like to watch the water crashing down into that big drop.

With the light so good, we raced back up to the Gorge Lookout again and found the still foggy scene backlit by a powerful sunrise that was delivering something quite special. Rising slowly the mist revealed a golden sunrise that just managed to penetrate the valley, catching the many foggy highlights, and bringing the scene to life. Two quite different images, both solid keepers, in the space of an hour is probably a personal best for me. What a morning!

The next trip we did was down to the Great Ocean Road. Being almost local this location has been a family favourite all my life and continues to offer photographic opportunities despite hundreds of previous visits. The home ground advantage means we can return to the same scenes and reshoot them until satisfied, even if it takes decades. Three of these images from that trip are the culmination of many such repeated attempts.

The first is that of a view across Aireys Inlet where the typical drizzly weather managed to finally let some light through. Next was the shot of Phantom Falls near Lorne. Arriving at the falls two things will likely be obvious to an observer. The first is that the place is heavily frequented, so if you want an image without people your best bet is to arrive early in the morning. The second thing you will find is that the water levels are quite variable. In summer there is much less water, exposing a lot of rocks that can look distracting when dry.

Conversely in winter the water levels can be so dramatically high that even approaching the falls means being totally saturated. Finally on this trip we found it to be just right. I managed to transport myself into the stream without taking an expensive tumble, so that was a promising start. Then we had to wait a couple of hours for some clouds to soften the light, and people to exit the scene. Shot on the Fuji GFX 100s with the 23mm I think this composition really capitalises on that near-far relationship and powerful leading lines to create an image with good depth. It feels like you could walk into it, which was the goal here.

Down at Childers Cove towards Warrnambool we had yet another attempt at shooting the Bay of Islands but once again mistimed the tide. It was way too high for a particular scene we had been working on for years now. We made a valiant attempt, but when our lad nearly had waves swamp his gear, we beat a hasty retreat. Fortunately, we had a backup composition tucked away in the memory banks and enacted that plan instead which ultimately worked out rather well resulting in the image looking straight down the wooden steps to the cute little oval shaped cove.

However, it was to be an image the famous Cape Otway Lighthouse that became my favourite of this series. Having shot there many times, this was another repeat attempt. I grudgingly paid the fees, and we wandered around the historic buildings, trying to keep out of a persistent drizzle. This place is very popular. Tourists tend to swarm through this scene, but luckily the drizzle helped filter their numbers and meant we could be out of the way of foot traffic.

With our cameras set up, our boy and I waited for the light, hoping it would break through the heavy clouds. Incredibly it did just that, though only long enough to cast golden light on the subject for all of a few seconds. A brief moment of beauty and nature closed the curtains once more. I really love the warm to cool tones in this one, and just how rich the colour feels, matching the real-life experience of that golden sunset light beaming into the cold rainy scene.

One final image in this series came from exploring the Aire River in the Otway National Park. I had never actually investigated this river before, so my expectations were quite low. However, it surprised me both photographically in terms of that perfect reflection, and in how much fun we had here. Our boy is currently enjoying bird photography. With a river leading to the ocean, this was a great location for bush birds like wrens and fantails, as well as some of the other species that prefer the coast. The place also offers two campgrounds, including facilities that are not overcrowded, at least in winter. A nice find. So that is it for another blog. If you managed to read this far, thanks for listening to me waffle on. I managed to put together a video alongside this text, so please check that out if it interests you.

All the best, and may you also find some rejuvenating adventures in the great outdoors.