What's New in December 2011
LARGE Panoramas - Suitable for enormous prints metres wide.
With the year almost over I managed to slip away for a few more photography trips, focusing mainly on Victorian coastal regions. Success was mixed. Driving through the night to arrive well before dawn, I launched a series of efforts aimed at Mornington Peninsula's Cape Schanck. Unfortunately excessive wind and bland light caused all that driving to come to naught. Two further trips to the Grampians also yielded limited results, with a shot of McKenzie Falls being the only win. On the other hand, I had a great deal of luck with other scenes.

The Brighton beach boxes, which I've shot a couple of times before, decided this time to put on a show. With hundreds of people on the beach during every daylight hour, this was a problematic shoot, yet it yielded one of my favourite photos so far. Over in the Otways I revisited some waterfalls, discovering again one I had previously dismissed due to muddy water and damaged vegetation, only to find it now in top form. And lastly I decided to reshoot "The Pinnacles" on Philip Island, coming away with a couple of nice panoramas, tack sharp despite some heroic wind and sea spray. On this trip the mutton birds were present in their multitudes, to the point where approaching by torchlight in the pre-dawn hours proved slow going. I was very careful not to disturb them more than necessary, though they occupied 50% of the track for several kilometres.

On the home front our little boy took his first steps unaided. Okay, only three of them, but exciting never-the-less. He's a whizz pushing a little toy mower about, crashing from room to room, so we figure it can't be long now before he's walking unassisted.

Merry Christmas all.

Landscape Photography Print Prices
Print Sales (US)
Ships from the US
Prices in US Dollars
Secure Online Shopping
Guaranteed Quality
World Wide Delivery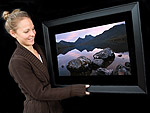 Birthdays & Christmas
Mother's & Father's Day
Stylish Wedding Gifts
Corporate Gifts
Home Or Office Decor

Shipped from America (US $)
Photographic Print Only
US Dollars
8" x 12"
20cm x 31cm
$20 US
10" x 15"
25cm x 38cm
$25 US
12" x 18"
31cm x 46cm
$35 US
16" x 24"
41cm x 61cm
$55 US
20" x 30"
51cm x 76cm
$65 US
24" x 36"
61cm x 91cm
$85 US
30" x 40"
76cm x 102cm
$100 US
Panoramic Prints
US Dollars
8" x 24"
20cm x 61cm
$35 US
10" x 30"
25cm x 76cm
$50 US
12" x 36"
31cm x 91cm
$60 US
16" x 48"
41cm x 122cm
$100 US
20" x 60"
51cm x 152cm
$160 US
30" x 90"
76cm x 228cm
$185 US
Canvas Prints (Standard)
US Dollars
8" x 12"
20cm x 31cm
$75 US
12" x 18"
31cm x 46cm
$95 US
16" x 24"
41cm x 61cm
$100 US
20" x 30"
51cm x 76cm
$125 US
24" x 36"
61cm x 91cm
$175 US
30" x 40"
76cm x 102cm
$200 US
Canvas Prints (Panoramic)
US Dollars
10" x 30"
25cm x 76cm
$150 US
12" x 36"
31cm x 91cm
$180 US
20" x 60"
51cm x 152cm
$310 US
Metal/Aluminum Prints
US Dollars
8" x 12"
20cm x 31cm
$150 US
12" x 18"
31cm x 46cm
$200 US
16" x 24"
41cm x 61cm
$250 US
20" x 30"
51cm x 76cm
$300 US
24" x 36"
61cm x 91cm
$350 US
30" x 40"
76cm x 102cm
$400 US
Metal/Aluminum Prints (Panoramic)
US Dollars
6" x 18"
15cm x 46cm
$125 US
8" x 24"
20cm x 61cm
$150 US
10" x 30"
25cm x 76cm
$200 US
12" x 36"
31cm x 91cm
$250 US
16" x 48"
41cm x 122cm
$400 US
20" x 60"
51cm x 152cm
$550 US
30" x 90"
76cm x 228cm
$850 US
Shipped from Australia & US (AU $)

Timber Framed Prints
Australian
8" x 12"
20cm x 31cm
$172 AUD
12" x 18"
31cm x 46cm
$245 AUD
16" x 24"
41cm x 61cm
$300 AUD
Photographic Print Only
Australian
8" x 12"
20cm x 31cm
$27 AUD
12" x 18"
31cm x 46cm
$33 AUD
16" x 24"
41cm x 61cm
$70 AUD
20" x 30"
51cm x 76cm
$92 AUD
Panoramic Prints
Australian
4" x 12"
10cm x 31cm
$27 AUD
6" x 18"
15cm x 46cm
$33 AUD
8" x 24"
20cm x 61cm
$70 AUD
10" x 30"
25cm x 76cm
$92 AUD
16" x 48"
41cm x 122cm
Please use
US Printer
20" x 60"
51cm x 152cm
30" x 90"
76cm x 228cm
33" x 100"
84cm x 254cm
Available
On Request
(Email)
40" x 120"
102cm x 305cm
Canvas Prints (Standard)
Australian
8" x 12"
20cm x 31cm
$132 AUD
12" x 18"
31cm x 46cm
$172 AUD
16" x 24"
41cm x 61cm
$224 AUD
20" x 30"
51cm x 76cm
$285 AUD
Canvas Prints (Panoramic)
Australian
4" x 12"
10cm x 31cm
$132 AUD
6" x 18"
15cm x 46cm
$172 AUD
8" x 24"
20cm x 61cm
$224 AUD
10" x 30"
25cm x 76cm
$285 AUD
20" x 60"
51cm x 152cm
Please use
US Printer
33" x 100"
84cm x 254cm
Available
On Request
(Email)
40" x 120"
102cm x 305cm
Poster
Australian
15" x 23"
39cm x 59cm
$25 AUD
22" x 33"
56cm x 84cm
$40 AUD
31" x 47"
79cm x 119cm
$70 AUD
Postcard
Australian
4" x 6"
10cm x 15cm
$3 AUD
Greeting Card with Envelope
Australian
4" x 6"
10cm x 15cm
$4.50 AUD
5" x 7.5"
13cm x 19cm
$7.00 AUD
Print Sales (AUD)
Ships from Australia & US
Prices in Australian Dollars
Solid Timber Frames
Secure Online Shopping
Guaranteed Quality
World Wide Delivery
Your choice of Matt
Your choice of Frame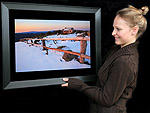 Timber Frames Available