What's New in December 2019
LARGE Panoramas - Suitable for enormous prints metres wide.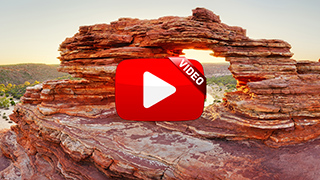 Towards the end of the year the opportunity arose for a photographic journey through Western Australia. Ordinarily travelling right across the other side of the country would be an extravagance, but this was something I'd been dreaming about for decades. With family in Perth offering a base, it all suddenly came together and before I quite knew what was happening the plane was taking off.

With a lot of compromising I'd managed to whittle my gear down to a single modest backpack, including a large tripod and sleeping bag, with my camera equipment as carry on. Definitely the way to go. The cheapest possible flight lead to cramped quarters, but with new horizons before me I was all smiles.

The rental car was, of course, expensive, but given that I put several thousand kilometers on it in the space of ten days, I think it was value for money. The only issue we had when pulling out of their carpark, was finding the handbrake! What happened to a large simple lever? Eventually we found the tiny, obscure and oddly label button and were off and away!

I decided to head north first because I'd been envisioning a shot of The Pinnacles in Nambung National Park for years. I spent the afternoon there wandering amidst the formations, selecting a composition.

It's a popular place with people everywhere and bus loads more arriving all the time. But hoofing it a little further afield yielded many potential options. At one point I had the pleasure of escorting a nice couple back to their bus who were convinced east was west. Granted the shapes all start to look alike after a while, but you can clearly see the ocean so wandering out into an endless desert shouldn't be an issue.

Finally, I settled on a group that presented a balanced panorama that dropped away down a low hill towards the setting sun, creating a nice sense of depth. When the light became an intensive golden hue, I was ready with the camera and got to enjoy a peaceful day's end. Lovely!

Back at the car I drove through the night to reach Kalbarri National Park and trekked down to the lookout known as Nature's Window for dawn. What a view! I'd seen plenty of images beforehand, of course, but it still took my breath away.

With the place to myself I had lots of time to compose before the sun crested and created that haloed orange glow around the famous rock. A tight frame of just "the window" was tempting, but a little too cliche. I'd seen too many selfies. To me the landscape just begged for the big wide panorama, so that's what I went with. Glorious fun.

After some much-needed rest I drove south heading for the Stirling Ranges. I'd essentially based the entire trip around this location. Mountains have always appealed to me. Probably from a childhood spent exploring them, and dreams of grand adventure.

Making Bluff Knoll my target, I kitted up in the dark, trying to keep the gear to a minimum. With warnings of steep and arduous hiking swirling through my mind, I began walking, the white circle of torchlight illuminating the clearly defined path ahead. I'd left the trekking poles at home in an effort to cut back on gear, but almost immediately regretted it. Fortunately, I'd given myself a generous amount of time.

I made the summit well ahead of sunrise and was greeted by a view like something straight out of Lord of the Rings. Layers of peaks rose and fell before me caressed by a beautiful cloud inversion. It doesn't get any better than this!

With my composition dialed in I started shooting the instant there was enough light. Just as well I did. From nowhere a bank of low cloud rolled towards me, as intense orange sunlight fought its way through, painting the entire landscape. Wow!

I had mere moments to capture the scene before it was swallowed in grey. Seconds later visibility was down to a few metres and everything was covered in moisture. All over Red Rover and time to head down.

The way back was considerably easier than the way up. I shed layers of clothing as I went, breaking through the fog at about the half-way mark. By the time I was back at the carpark I was down to a T-shirt and the tourist were already arriving by the bus load.

I spent the day sleeping and resting muscles, but staying in place for sunset, coming away with another keeper of the bluff from the trail head, just as the last light cast a golden glow across the impressive cliffs. Nice, and possibly my favourite shot.

For the remainder of the trip I focused my efforts on the Margaret River Region. I invested several days into Sugarloaf Rock, but the sky just wouldn't play ball. Empty cloudlessness just didn't do the place justice, so that's one to come back for. I did, however, get to enjoy some crazy huge waves there. Really amazing to witness. At one point a wedding party showed up for their photo shoot, with that thunderous backdrop. The wind and sea spray would have been epic, tearing at them, but they kept at it. Hopefully the bride liked the results.

Quite a bit of my time went into Cape Leeuwin Lighthouse near Augusta, a tricky place to shoot. I was really keen on using some rocks I found as foreground, but again the sky kept letting me down. I stayed in the area, scouting the forests and beaches nearby, then circling back to the lighthouse for each sunset and dawn until finally it all came together.

At the tail end of the journey I managed a final sunrise overlooking Perth city. Wandering the streets in the wee small hours I decided on a view across the Swan River with the buildings catching the morning glow. What a great way to end the trip. One last day with family in Perth and we were back on the plane, winging our way for home.

So that's it for this series. As for what's next on the schedule, it's probably going to be local destinations for a while. Our boy is growing up and now has his own camera and tripod. We often head out on Father-Son expeditions to nearby National Parks, so I foresee more of the same coming up.

Amazing how a device such as a camera can provide the inspiration to travel and create memories that will last a lifetime. As a means of lifting one's spirits, I can definitely recommend it. Watching our boy try to photograph ducks at the local park is a rewarding experience for both of us. I hope you can also find such happiness in your own lives.

As ever, thanks for reading.