What's New in June 2014
LARGE Panoramas - Suitable for enormous prints metres wide.
Australia has an almost inexhaustible supply of picturesque scenery. Having lived in and photographed Victoria all my life I'm still finding places I haven't seen and being awestruck by their natural splendour, to say nothing of all the other states, some of which I have yet to visit at all. I doubt I will ever "run out" of things to photograph, but I dream of having more time (as I'm sure most parents/providers do), in which to pursue, with greater intensity those more far flung destinations within our amazing island. Only today I was speaking to a family friend who is planning his retirement with a great "slow crawl" around the country, possibly taking years at it. What a wondrous thing to contemplate.

Anyway, I digress. I'd best talk about these latest photos. These come from a few local trips, since I haven't had the time for extended travel. Most notable among them are the images taken from Mt Oberon at Wilsons Promontory. This has been on my tick list for the last 25 years or so. With each visit to Wilson's the most obvious walk one is presented with is the great looming peak casting a shadow over Tidal River campground like a hovering parent supervising the play of its children below. I've long since lost count of my trips to this pretty peninsula and each time say "I must get up Oberon", but found myself barely able to hobble back to the car from some exhaustive adventure deeper into the park and subsequently drive away with the peak yet again in my review mirror.

This time around I decided I'd plan the trip around Oberon. The walk up was easy enough, though I noted yet again that I'm now of an age when "fit young people" overtake me. There's something about Wilsons that attracts them. Maybe hiking has become the new trendy exercise. They certainly dress like they are in a gym rather than a wilderness.

Anyway, I digress again. Back to the mountain. I knew its hurricane like wind factor was legendary so I picked my weather carefully, opting for a calm day with good cloud cover for the sunset shot. I was, however, under-prepared for just how ferocious that up-draft would be.

It took a good hour to find a suitable spot, tucked down behind a boulder, from which I could set up my giant, heavy tripod and not suffer vibrations when "lulls" (or a lessening in the gale), would occur randomly for a second or two. When shafts of light came streaming through the clouds I got very excited. In the end I shot dozens of frames of the one composition before coming away with the two final images shown here, tack sharp, though I was cursing and pleading with the air around me the whole time. It wasn't until afterwards that I noticed one of those aforementioned young couples trying to have a romantic sunset moment nearby and apologised for my outbursts. One thing about Wilsons I need to remember is that you're rarely alone.

The other notable thing that happened on these trips was an opportunity to test out the off-road abilities of my Subaru Forester. I did promise a few blog entries back to review it, so here goes. Having spent the last 20 years driving a 2WD Camry, the Forester was always going to be a big step up in terms of gaining access to rugged areas. Taking it up into Victoria's Alpine National Park I was, to say the least, exceedingly impressed. For someone who has just enough off-road experience to get themselves into trouble I found the vehicle trouble free. Not once did it scratch around for traction despite some tracks I would hesitate to walk up let alone drive.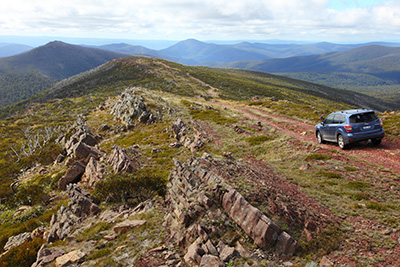 At one point I was faced with a very steep, rocky, gouged-out old track eroded by water and festooned by huge culverts. "Oh no" thought I, there's nowhere to turn around. With the magic "x-mode" switch enabled and my foot off all pedals I let the car figure it out for itself. The car lurched from side to side as it cleared one obstacle or another. I turned up the music and concentrated on picking a good line. Cresting the top of a little mount that I would have normally trekked up lugging gear I suddenly felt like I was cheating somehow. I come from a long line of hikers. The kind of forefathers who's idea of good time is a knapsack and a billy of tea. What would they say if they could see this great fool that I was up in the mountains? When inevitably some real hikers came past and bid me a good day I was somewhat embarrassed. I found a place to park and walked the rest of the way.

I did find the car's limits however. Whilst it forded a little stream with ease and took to the rocks and mud with aplomb, the "class leading" clearance wasn't enough for one particular, tyre swallowing channel, forcing me to go another way and realise I was still driving a family car not a truck. So is it suitable for a landscape photographer? At this point I'd give it a resounding tick of approval. Hopefully by the end of the year it will have seen snow and desert too, and I can give a further opinion then. Until next time, all the best good people, whom so ever you are.