What's New in September 2013
LARGE Panoramas - Suitable for enormous prints metres wide.
At the start of winter 2013 I had grand plans and optimistic dreams of hiking snow-capped peaks, but as is often the case with my life, time just seemed to vanish beneath the rigours of the daily grind. In fact the closest I came to seeing snow was an early trip into Victoria's Alpine National Park to return to Guys Hut.

Whilst not snowing, a severe morning frost coated the world in white, almost to the point of removing all colour. The result was one of my favourite photos, with my lasting memories of the place being that of peace and tranquillity, despite the area being inundated by hundreds of… (I'm trying to think of a politically correct term), let's call them hunter & gatherers. My trusty 20 year old Camry made it through again, though the ice proved exciting and it was the only non-four-wheel-drive vehicle in the park.

Winter also found us, as a family, spending a week in Melbourne. While my wife helped her niece with a new born baby, I spent the days attempting to answer the question, was it possible to look after our own boy and take photos at the same time? Could I manage to scout locations, wait for light, shoot, travel, and so on, whilst still changing nappies, feeding, nurturing and above all entertaining our delightful though somewhat rapscallion three year old?

As it turns out the short answer is no. Scouting I could do. He enjoyed the coastal destinations the best, but the time-consuming act of shooting through a couple hours of fading light was impossible. Fortunately I did manage to slip away for most sunsets and ultimately came back with the docklands photos shown here.

Wallace Hut at Falls Creek was a mixed success. I'd been tracking weather and was convinced there would be fog, but instead I got direct sunlight which actually worked out well in any case. I also manage the shot of The Horn on the way back from that trip.

And finally Signal Peak in the Grampians turned out to be very enjoyable. I'd shot this scene a couple of times before in years past, and always found the hike to be steep and tiring, but this time it was almost easy and the dawn light was incredibly red, the deepest red I've ever seen.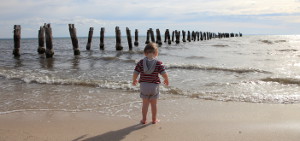 On that journey, I also managed to have the longest conversation of my life, spending an entire afternoon in a Portland bookshop talking to the proprietor who was another keen photographer. Every time I stood up to depart, he'd regale me with another tale of the life he'd led in every corner of the country. Great stuff. Whilst I'll remember that red sky, sometimes it's the people you meet along the way that make an excursion interesting.

So where to next? I've a mind to head to the Flinders Rangers in SA, but who knows? Time is a fickle commodity.